Hotline thrift stores sell donated items, such as clothing, small household items and furniture. These funds directly support the needs of survivors and their children on a local level. The success of this fundraising effort is due to the large numbers of hours worked by store volunteers and the generosity of the community at large.
Hotline Thrift Shop Locations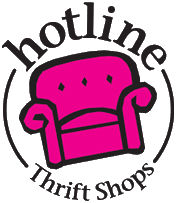 Hotline operates five fundraising thrift stores. Dedicated volunteers sort, price, and display merchandise donated to Hotline. The income generated by the thrift stores is returned directly to the community through programs and services. Shoppers can browse everything from clothing, housewares, tools, and books to furniture, accessories, used cars, and more! Even the occasional "find"! Merchandise constantly changes as newly donated items make their way to the sales floor.
Please know that we can only accept items that are in clean sellable condition. Items that are dirty, missing parts, or damaged will not be accepted. Thank you for your understanding. We do accept automobiles, boats, and campers. We cannot accept the following:
Mattresses and box springs 
Dishwashers
Headboards/Footboards – unless they're part of a bedroom set
Cribs
Car Seats
Old box TVs
Printers
Pianos
Your tax-deductible donations of resalable items are always appreciated.
Hotline thrift shops locations:
Hours of Operation
Tuesday – Friday 10 AM – 5 PM
Saturday 9 AM – 4 PM
Closed – Sunday and Monday

4140 N Croatan Hwy, Kitty Hawk, NC 27949
(252) 261-8164

 

Hours of Operation
Monday – Friday 10 AM – 5 PM
Saturday 9 AM – 4 PM
Closed – Sunday

2114 S Croatan Hwy, Nags Head, NC 27959
(252) 441-1244

 

Hours of Operation
Tuesday – Friday 10 AM – 5 PM
Saturday 9 AM – 4 PM
Sunday and Monday – Closed

602 Amadas St, Manteo, NC 27954
(252) 473-3127

 

Hours of Operation
Limited Hours
Tuesday, Wednesday, Thursday 9 AM – 4 PM
Saturday 10 AM - 5 PM
Monday, Friday – Closed

47170 NC-12, Buxton, NC 27920
(252) 986-1332

 

We Can Pick Up

If you can't drop off your items, or they are too large for you to drop off, we can set up a time for us to come pick your items up.

Please Call (252) 473-5121 to schedule a pick-up.