Outer Banks Hotline not only provides immediate short-term help to individuals and families in crisis, but we help them work towards long term solutions. Hotline gives those who have experienced interpersonal violence, sexual assault and human trafficking a real second chance, an opportunity to redesign and better their lives. 
In our work to follow through with the mission and vision, the staff, board and volunteers of Outer Banks Hotline allow the philosophy of the agency to guide our work in our interactions with clients and the community at large.
Outer Banks Hotline is committed to fostering a diverse and inclusive environment where all staff, residents, clients, board members and volunteers feel safe and empowered to make their voices heard. Reflective of the community we serve and embrace, we celebrate difference in age, color, disability, ethnicity, family or marital status, gender identity or expression.
Outer Banks Hotline strives to promote equal access to all individuals in need of support services.  We offer these services free from discrimination based on ethnicity, language, race, age, ability, sex, gender identity, sexual orientation, family status, income, immigration or refugee status, nationality, place of birth, political or religious affiliation.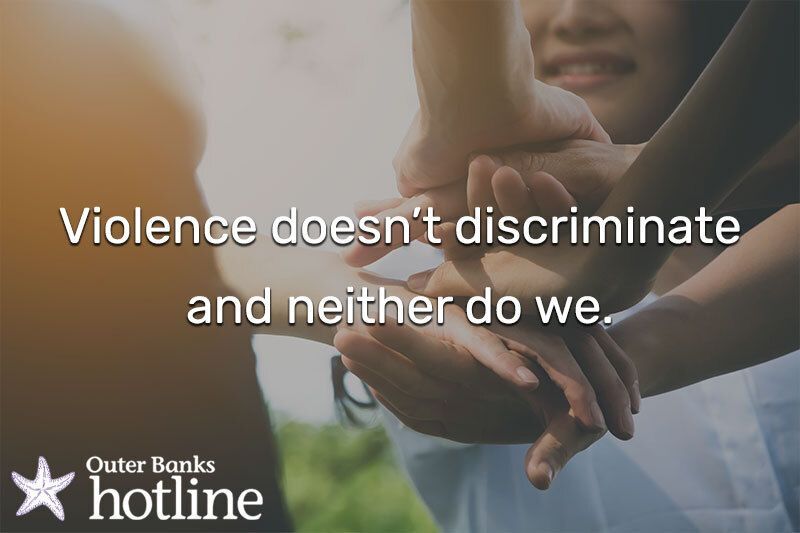 WE BELIEVE
No one deserves to be abused

That interpersonal violence threatens many basic human rights

The victims of violence have a voice and should be encouraged to speak out

That interpersonal violence affects the health and wellbeing of the entire community
WE BELIEVE
In equity and respect in all relationships

That services should be offered without a regard to a person's resources

That all clients, regardless of situation, background or behavior deserve to be treated with respect
WE BELIEVE
That domestic violence is continued through the tolerance of the community

That we have a responsibility to challenge misconceptions and to educate the community, especially those in positions of providing help and support

That the community has a responsibility to work together to improve the future for all those affected by interpersonal violence
WE BELIEVE
That all people should feel safe and valued

That knowledge is powerful
By uniting, we can strengthen the positive that already exists, so children, youth, families and our community all thrive.